Kam Williams
Excellent..........
*****
Very Good........
****
Good................
***
Fair.................
**
Poor...............
*


---
Bow Wow On Skates
The
Roll Bounce
Interview With Kam Williams
Shad Gregory Moss was born in Columbus, Ohio on March 9, 1987. Raised never knowing his biological father, he began rhyming at the age of 3, and first appeared on stage at 5 as Kid Gangsta. But his rap career was really kickstarted a year later when Snoop Dogg dubbed him Lil' Bow Wow and took him on stage during the Chronic tour.

Shad's 2000 debut CD, Beware of the Dog, sold over 3 million copies, while his initial single, "Bounce with Me", reached #1 on both the Rap and R&B charts. This got him listed in the Guinness Book of World Records as the youngest solo rapper to hit #1.

Almost grown, he made his first motion picture in 2002, dropping the diminutive prefix Lil' from his canine nickname. Now, better known as Bow Wow, he has since appeared in All About the Benjamins and Johnson Family Vacation. And he is already at work on Mr. Prez, where he will play a teenager from Philly who gets to be President for a day.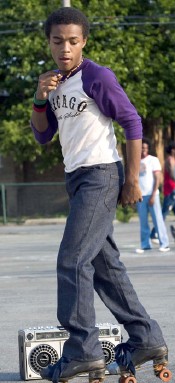 Bow Wow
Here, he talks about his current role as X in Roll Bounce, another rollicking retro comedy set in the Seventies from Malcolm Lee, director of Undercover Brother.

KW: Tell me a little about Roll Bounce.

BW: It's a film that has a variety of everything: skating, comedy, drama. It just has that whole thing. And I don't think there's never been a father and son relationship on screen in I don't know how long, the way, I mean, that I and [co-star] Chi McBride played out. It's terrific. It's just a really, really great film and you just got to see it to believe it. The skating is incredible. What I'm doing on these skates. It's hot. This movie is ridiculous. It's definitely Seventies all the way. Trust me, from my pants to my boxers, it's Seventies. Please believe me.

KW: I do. What does skating mean to your character, X?

BW: Skating is a lot to X, because to me, this is my freedom. When X is at home, it's an emotional time for him, because his mom is gone and he truly, truly misses and loves his mother. But now he's in a position where it's just him and his father. And his father is mean, but it's like I love him at the same time. And in X's mind, I know that this is good for me. But when I get away from that, skating is like heaven to me. It's peaceful. I'm at my own time, and this is what I like to do. That's what skating is to X. He loves it.

KW: Did you skate much before making this movie?

BW: I'm gonna put it like this. Bill [skating trainer Bill Butler] was like the guy who brought Frankenstein back to life. And I'm Frankenstein. Because when I came here, I knew how to skate. But the style that they wanted me to skate, I wasn't accustomed to that specific style of skating. Bill basically brung that back within like two weeks of rehearsals. So, now I'm crazy-legged out there, turning around doing all these crazy tricks I never thought I would do. Bill brung that back. What he taught us, in the amount of weeks that the movie gave us, was incredible.

KW: What effect do you expect this film to have?

BW: Hopefully, people will go back skating again. Something interesting that I didn't know that I found out was that when they closed certain skating rinks, the crime rate went up. And when the skating rinks were up, the crime rate was pretty much down. And when you take something away, it's like you don't have nothing else really to run to. And that was something I found interesting. So hopefully, this movie, on the skating side, can get people going back skating and having fun, and even building skating rinks across the country in some areas and some neighborhoods. You know, just to give the kids something to do to go out and have fun and just enjoy themselves.
Cote d'Azur
(Crustaces et Coquillages)
****
Betrayal and Seduction Abound in Freaky French Romp
Many a French romp seems to follow a fairly predictable format, namely, lots of talk, followed by a steamy sex scene, followed by smoking, followed by more talk, more sex, and more smoking, ad infinitum. Cote d'Azur is just such a romantic roundelay, except that it is unusual in that it omits the cigarettes, replacing that staple of French cinema with more of the other two.

The result is a picture featuring kinky coupling and uncoupling on the part of an array of quirky characters working out their relationship and emotional issues at a madcap pace.
Marc (Gilbert Melki) and Beatrix (Valerina Bruni Tedeschi) are a married couple who decide to take their kids to the Mediterranean for a summer vacation. Their 19 year-old daughter, Laura (Sabrina Seyvecou), sets up a rendezvous there with her biker boyfriend, while their 17 year-old son, Charly (Romain Torres), brings along a gay friend who has a crush on him.

Complications ensue when Beatrix's secret lover, Marc's old flame, and other objects of affection arrive, imbuing the seaside retreat's sun and sand with an erotically-charged atmosphere. It's hard to believe that anyone could be so cavalier as the members of this family about infidelity, sexual orientation and other behaviors which have them impulsively trading partners at the slightest whim.

Still, Cote d'Azur works so long as it is approached as a tongue-in-cheek farce as opposed to a plausible melodrama.

Rated: Unrated
In French with subtitles
Running time: 90 minutes
Studio: Strand Releasing
The Brothers Grimm
*
Damon and Ledger as Legendary, Tale-Spinning Siblings in Absurd Bio-Pic
The Brothers Grimm, Jacob (1785-1863) and Wilhelm (1786-1859), the second and third eldest of nine children, were born in Hanau, a German city located near Frankfurt. Despite the French occupation of their homeland after it was conquered by Napoleon in the early 1800s, both boys would follow in their late father's footsteps and attend law school.

They also exhibited an interest in fables at an early age, and began recording fairytales related by friends, relatives, and well-known storytellers around the region. They finished their first book in 1812, a collection of 84 children's stories.

All told, the prolific siblings would publish 585 of these folklore legends, including such beloved classics as Snow White, Hansel and Gretel, Rumpelstiltskin, Cinderella, Mother Hubbard, Snow White, Sleeping Beauty, Rapunzel, and Jack and the Beanstalk, to name a few. They were successful enough to abandon the law entirely, in order to make additional seminal cultural contributions like the first German dictionary and history books.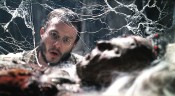 Heath Ledger
So, it should come as no surprise that the lives of this enterprising duo might be the subject of a bio-pic, although one might not expect an adaptation as blasphemous as The Brothers Grimm. At least not until one learns that the director is prankster Terry Gilliam, the brains behind other over-the-top historical comedies, from Monty Python and the Holy Grail (1975) to Life of Brian (1979) to The Adventures of Baron Munchausen (1988).

Here, the Monty Python alum has tapped Heath Ledger and Matt Damon to handle the title roles as Jacob and Wilhelm, respectively. Unfortunately, the two talented stars find themselves betrayed by a script which fails to commit either to fantasy or to fact. Worse, in spite of lavish sets, the film still feels amateurish, as if mounted by the Little Rascals.

The plot, very loosely based on the Grimms, opts for frequent unexplained departures into the supernatural, all of which only serve to render the material meaningless, except for its occasional oblique allusions to one of the brothers' familiar fairy tales. The problem probably has to do with the fact that this is a Miramax film, and that Miramax is a division of Disney.

For Disney met with phenomenal success with Pirates of the Caribbean, a monster movie based on one of its amusement park theme rides. Meanwhile, Miramax enjoyed its own hit in Finding Neverland, a magical biography of J.M. Barrie, the creator of Peter Pan. And it is not lost on this critic that The Brothers Grimm relies heavily on winning elements of both those flicks, almost as if their inclusion had been mandated by some hack Hollywood studio exec. Too bad the ill-advised marriage of fright fare with whimsical escapism fails to work.

No need to describe further the disjointed, ear-splitting, visually-jarring, mirthless, messy exercise in pure pandemonium that Gilliam attempts to pass off as family entertainment. Suffice to say that it is too frightening and gory to be appropriate for young children, and that it will prove to be a sure cure for insomnia for any adult roped into accompanying kids to the theater.

Rating: PG-13 for graphic violence, frightening sequences and suggestive material.
Running time: 118 minutes
Studio: Miramax Films
Palindromes
**** 1/2
DVD Review
Teen Tries to Get Pregnant in Todd Solondz DVD
The latest in Todd Solondz's string of offbeat flicks is this bizarre tale about 13 year-old Aviva, a Jewish girl determined to have a baby over the objections of her alarmed mother (Ellen Barkin). A palindrome, FYI, is a phrase that reads the same forwards and backwards, such as "Lisa Bonet Ate No Basil." Other than the name Aviva, this picture's title seems to have no relevance to the movie's plotline.

Here, Solondz employs a cinematic device certain to drive some viewers crazy. He has seven different actors and actresses portraying his rebellious young protagonist, ranging in sex, skin color and age, with Jennifer Jason Leigh, 43, being the only famous face in the lead role.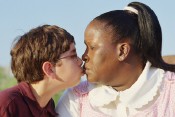 Palindromes
As the film opens, a boy in a yarmulke is delivering a heartfelt eulogy. Cut to the first Aviva, a brown-skinned black girl in braids. In the wake of the funeral, she's announcing to her mom that she wants to have lots and lots of babies. Cut again to a scene where another Aviva seduces a boy after watching pornography with him over the Internet.

Possibly impregnated, yet another incarnation of our heroine runs away from home rather than submit to the suggestion that she have an abortion. Hitchhiking, she's picked up by a leering trucker and morphs again before crossing paths with a convicted pedophile. She later finds sanctuary at an orphanage with a religious agenda.

Whether Solondz is sarcastic or born-again is difficult to ascertain, but he certainly seems to have chosen to deliver a pro-Christian message, if taken at face value. The only other interpretation one might divine would summed up by this anti-social line delivered by an oddball near the end of the film: "We're all robots programmed arbitrarily by nature's genetic code."

A bizarre but brilliant headscratcher.

Rating: Unrated
Running time: 100 minutes
Studio: Wellspring Media
DVD Extras: Theatrical trailer.
The Man
*
Samuel L. Jackson and Eugene Levy as Unlikely Buddies in Unfunny Rip-Off
In 1982, Eddie Murphy made an unforgettable movie debut in 48 Hours, an unlikely-buddy vehicle about a no-nonsense detective (Nick Nolte) and a motor-mouthed convict released from prison for two days to help track down the cop killers who had just murdered the police officer's partners. In that hilarious comedy classic, this always at odds twosome spent the bulk of the picture riding around the streets of San Francisco in a colorful convertible, squabbling with each other while searching for the perpetrators.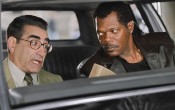 The Man
Why a trio of apparent plagiarists would now step forward to claim authorship of an unfunny, watered-down, thinly-veiled version of that same storyline is beyond the ken of this critic, especially when the production is as embarrassing as this. Nonetheless, that is precisely what we have with The Man, one of the most shameless rip-offs of a hit flick in recent memory.

The purloined plotline comes courtesy of British actor-turned-scriptwriter Jim Piddock, and Yanks Stephen Carpenter and Margaret Oberman. It is curious coincidence that Ms. Oberman is a former Saturday Night Live staff writer whose tenure (1981-1985) overlapped most of Murphy's (1980-1984) when he skyrocketed to fame as a regular cast member on the show. Perhaps The Man represents a futile attempt to recapture some of that magic. And if you can't get Eddie, the next best thing might be remaking one of his best movies.

Regardless of the rationale, this movie is one of those cinematic fiascos it's fun to have a field day picking apart, starting with the ill-advised pairing of Samuel L. Jackson with Eugene Levy. These two exhibit so little chemistry it's almost as if they're appearing two different films.

Oscar-nominated Jackson (for Pulp Fiction) may be an accomplished dramatic actor, but it appears that director Les Mayfield failed to inform him that this particular picture would be a comedy. So, Sam never bothers to tone down his trademark intensity to allow for any evidence of levity or his lighter side.

The result is a cringe-inducing performance laced with malicious, mean-spirited lines. There was no reason to laugh when he pauses during the sadistic torture of a black suspect to threaten further, "I'm going to beat you like a runaway slave." Likewise, when he says, "They ate him," when his co-star disappears in the company of some African Americans, suggesting that they are cannibals.

Similarly, the ordinarily understated Levy, a seasoned comedian known for his deadpan delivery, fares no better here, finding himself equally abandoned by a tasteless script which has him repeatedly spouting uncharacteristic lines like "Who's my bitch?" He also indulges in endless bodily function humor, as the movie milks his character's neverending battle with flatulence from beginning to end.

The tale is set in a Detroit which bears no resemblance to the Motor City, since it was shot entirely in Canada. It unfolds as a slight variation on 48 Hours, opening with the slaying of the partner of Special Agent Derrick Vann (Jackson).

Nerdy salesman Andy Fidler (Levy), in town for a dental products convention, inadvertently gets mistaken for a mobster during a sting. Vann pressures Andy to assume the identity in order to help crack the case, and from there, they embark on a series of vaguely familiar escapades which were executed much better by Messrs. Murphy and Nolte.

A derivative, readily forgettable insult, except designed with the fan of the fart joke in mind.

Rating: PG-13 for profanity, crude dialogue and violence.
Running time: 84 minutes
Distributor: New Line Cinema
The Transporter 2
**
High-Impact Sequel Fails to Measure Up to Original
The Transporter, a stunt-driven spectacular from France featuring Jason Statham, landed on this critic's 10 Best List of 2002. Though its two-fisted star has returned to reprise his role as mercenary-for-hire Frank Martin, this sequel fails to measure up to the first in terms of storyline, chemistry, action or cinematography.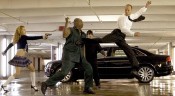 Transporter 2
Set in Miami, the film opens with Frank already employed as the bodyguard of six year-old Jack Billings (Hunter Clary), the son of socialite Audrey Billings (Amber Valletta), who happens to be separated from her estranged husband (Matthew Modine).

Fortunately, despite the fact that Audrey puts the moves on him, Frank remains all business. His diligence comes in handy when a Colombian drug cartel decides to kidnap the kid. However, their headscratcher of a conspiracy has them seizing the tyke not for ransom, but to inject him with a deadly, highly-contagious virus. The plan is that little Jack will serve as patient zero to infect his politician father and others trying to put an end to the narcotics trade.

The most amusing of the cartoonish villains is Lola, played by supermodel-turned-actress Kate Nauta as a bulimic-looking blonde fond of firing two machine guns at once. However, no one proves to be a match for Frank, who takes on all comers, and without need of a gun.

Like a white Jackie Chan, Jason Statham is at his best during his carefully choreographed stunt sequences. Regrettably, half of them come off as comical this time around, while the accompanying computer-generated special effects are so transparent that the pyrotechnics, plane crashes, and flying cars appear just as phony. Throw in a preposterous plot, and it all adds up to a major disappointment for fans of the original.

Rating: PG-13 for sex, expletives, ethnic slurs, partial nudity, stylized violence and intense action sequences.
Running time: 88 minutes
Studio: 20th Century Fox
Underclassman
*
Sophomoric Underclassman Gets Flunking Grade
I think this movie might have been made before, but it was called Beverly Hills Cop. Also set in L.A., Underclassman stars Nick Cannon as Tracy, a trash-talking, renegade cop from out of town, Philly instead of Detroit. Just as with Eddie Murphy in Beverly Hills Cop, the movie opens with Nick badly bungling a contraband bust, but toys this time, instead of cigarettes.

The primary problem with the picture, however, is not that it's a thinly-veiled remake, but that Cannon is neither a consummate comedian, nor does he have half the charm of his predecessor. As a result, his every attempt to entertain us falls flat.

For instance, when he leers at a couple of cuties in bikinis, he seems more like a loser than a lover. Same goes for the situation where he flirts with a teacher by asking, "Did you ever want to be a video dancer?" Then, after she resists his advances, he responds with, "Why don't you stop frontin'? You know you want it. You're a freak." This suggests that he doesn't hold professional women in high regard. And then there's the sexy scene where the pedophile picks up a couple of white girls he knows are underaged and then has them sandwich him in what he calls "a reverse Oreo."

When not degrading females, Tracy devotes most of his efforts to behaving like a self-hating black man. Speaking in English-butchering Ebonics, he constantly equates being African-American with the most backwards, debased, and degenerate behavior.

For example, this is how he explains his being a high school dropout. "School ain't never been my thing. It always seemed to get in the way of being a man." Later, he asks a gainfully employed black man whether he's West Indian, insinuating that American born blacks are lazy.

After being unfairly arrested, instead of protesting, he says he feels at home in jail, "Because the cell brings me closer to the struggle," whatever that's supposed to mean. When invited out to get crab by white friends, he acts surprised when he is taken to a fancy restaurant, because "in my neighborhood, getting crab means something totally different," namely, a sexually-transmitted disease.

The picture was directed by Marcos Siega who, just a couple of weeks ago, released the putrid Pretty Persuasion, an equally-offensive exercise in anti-Semitism. It's mind-boggling that such relentlessly offensive trash ever finds financial backing from a major Hollywood studio. Why give an international platform to a man with so much hate in his heart?

Regardless, Mr. Siega should look forward to the distinction of being the first director to land two movies on my annual 10 Worst List in the same year.

Rating: PG-13 for profanity, crude humor, violence, illegal drug usage, and the promotion of teen alcohol consumption.
Running time: 95 minutes
Studio: Miramax Pictures
An Unfinished Life
****
Regret and Redemption Drives Family Reunion Drama
Jean (Jennifer Lopez) has been stuck for two years in an abusive relationship with Gary (Damian Lewis), a creep who seizes on any excuse to hit his cowering girlfriend. After the latest round of pummeling leaves her black-and-blue, the beleaguered single-mom is reminded by her daughter, Griff (Becca Gardner), of her promise to flee if he ever touched her again.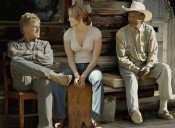 An Unfinished Life
Therefore, the two take temporary refuge at a battered women's center. Soon, scary Gary shows up, insisting his punching bag return home, making it clear he won't take "No!" for an answer. Wisely, Jean decides to disappear, so she quits her minimum wage job at the local dry cleaner and heads out of town in her beat-up jalopy, 11 year-old in tow.

Without much of a plan, they escape a couple of states away to a remote region of Big Sky Country in Ishawooa, Wyoming where they show up, unannounced, at the spacious ranch of Einar Gilkyson (Robert Redford). However, the reluctant old geezer is not enthusiastic about this sudden appearance of his former daughter-in-law, since he still hasn't forgiven her for being behind the wheel during the car accident that claimed his 21 year-old son's (also named Griff) life.

What irascible Einar can't resist, however, is the carrot dangled in front of his face in the form of the young granddaughter he previously had no hint even existed, especially since she resembles her late father. Thus, he takes them in, though we see that he has never managed to move past the loss, still making a daily ritual of visiting Griff, Sr.'s grave.

Otherwise, the retired cowboy divides his days between tending to a few animals and caring for Mitch (Morgan Freeman), a hired hand in need of morphine injections since being mauled by a grizzly bear about a year ago.

This somewhat cluttered picture is further clouded by the introduction of a couple other principal characters. One is Nina (Camryn Manheim), the kindred soul who gives Jean a job as a waitress at her diner. The other is Crane (Josh Lucas), the handsome sheriff/knight in shining armor who knows how to treat a woman right and how to protect her from a stalker.

This somewhat overplotted scenario underpins An Unfinished Life, a deliberately-paced, modern-day Western from three-time Oscar-nominee Lasse Hallstrom. The Swedish director's impressive resume reveals a host of other convoluted ensemble pieces, such as The Cider House Rules, What's Eating Gilbert Grape, My Life As a Dog, Chocolat, and The Shipping News.

But this movie might be more memorable for another Hallstrom hallmark, visually-enchanting cinematography, than for its character-driven storyline. For the film's distracting flaw is simply that Jennifer Lopez is easily outclassed by co-stars Robert Redford and Morgan Freeman.

While she has proven herself capable of handling formulaic romantic comedy, this outing exposes J-Lo as not quite ready for material calling for more emotional depth. One can only wonder how her material might have fared in the hands of a more accomplished actress, instead of an icon hired because of her rabid fan base.

Finally, a quick memo to Freeman who turns in a decent performance, but playing, for the third time this year (after Million Dollar Baby and Danny the Dog), the all too familiar role of the kindly, pitiable, impoverished, physically-disabled philosopher full of sage advice for others that he never puts to use on his own behalf. Maybe it's time to try a different role before you find yourself hopelessly typecast.

In sum, while An Unfinished Life doesn't measure up to the best of Lasse Hallstrom's work, it is, nonetheless, an easy on the eyes, panoramic production with a compelling enough plot to remain recommended.

Rating: PG-13 for profanity, domestic violence, vigilante frontier justice and mature themes.
Running time: 107 minutes
Studio: Miramax Pictures