By Ruthanne Johnson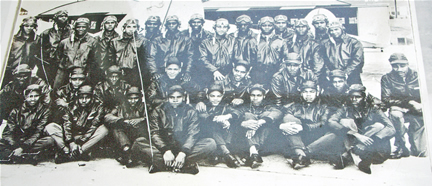 Lt. Col. Fitzroy "Buck" Newsum's dream of flying began when he saw his first plane in 1929, when he was just 10.
"I didn't even know what it was. I wasn't even in this country, but I remember constantly watching the pilot take off every evening and fly around," he said. "I knew then that I wanted to fly. Unfortunately, I wasn't well aware of the restrictions against Blacks."
The event at Metro State College of Denver, "The Black Knights of Aviation," was held April 11, just two weeks after the U.S. Government formally acknowledged the Tuskegee Airmen for their efforts and success during WWII with the Congressional Gold Medal. They joined other Congressional Gold Medal recipients, including Martin Luther King, Jr., Winston Churchill, Rosa Parks, the American Red Cross, Mother Teresa, and Nelson Mandela. The Tuskegee Airmen are also having a commemorative coin minted in their honor.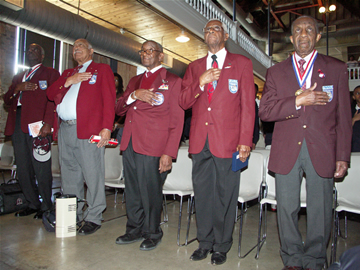 The event was organized by Metro's Black Students' Alliance and the Metro State History Club to bring community awareness to the Tuskegee Airmen. The guests at the presentation included Ret. Lt. Col. James Harvey; Ret. Lt. Col. John Mosley; Newsum; Col. John H. Smith Jr.; and Ret. Tech Sgt. William Walters. Three of the men spoke about their experience overcoming racial stereotypes and discrimination as soldiers during WWII. Mosley and Walters were original Tuskegee Airmen graduates.
For Newsum and other African Americans, World War II was a time in which they battled an enemy at home and abroad. While Hitler's German soldiers rounded up Jews and other ethnic groups into segregated living areas called ghettos, the United States government supported segregation laws at home that kept African Americans living in their own ghettos. Still in tact, the Jim Crow laws of 1876 dictated that Black Americans sit in the back of busses, eat in separate restaurants, drink from separate water fountains, and serve their country in segregated military units. The hypocrisy of such discrimination angered the African-American community, which soon began pressing President Franklin D. Roosevelt for change.
Under pressure from the Black press and leaders such as W.E.B. Dubois, Roosevelt approved legislation in 1941 that allowed for the formation of an Army Air Corps training base for Black pilots at the Tuskegee Institute in Alabama. However, in an effort to eliminate the new training program, lofty criteria were set up to accept only those with a certain level of flight experience and higher education. Despite the difficulty of meeting these standards – especially for African Americans living in dire poverty – the plan backfired when the Air Corps received numerous applications from men who qualified under the restrictions.
The Tuskegee Airmen became America's first African-American military pilots. Trained at Alabama's Tuskegee University between 1942 and 1946, a time when most Black soldiers served their country as cooks, janitors, and in other menial jobs, the newly trained pilots fought hard to overcome racial stereotypes. The school graduated almost 1000 African American pilots during the war. They helped protect the American and Allied bombers by serving as escorts on important missions in northern Africa, Europe and Asia.
"It was an experiment designed to fail, so we made sure we didn't," said Ret. Lt. Col. James Harvey as he stood in front of an audience of about 250 gathered to hear him and two others from the original Tuskegee Airmen speak.
"Tuskegee was the worst place to put the program. Racism was very bad there," Harvey said, who went on to become the first Black jet pilot to fly missions over Korea. In addition to flying over 126 combat missions in support of ground troops, Harvey received numerous military decorations, medals and awards. After retiring from the military, he became the first Black distribution center manager with Oscar Meyer in 1972.
The Tuskegee Airmen shattered racial stereotypes by successfully flying over 15,000 sorties over North Africa and Europe during the war, ultimately destroying more than 250 enemy aircraft on the ground and 150 in the air. Reportedly nicknamed the "Black Birdmen" by the Luftwaffe because of their tenacity and skill, the 99th Squadron received two Presidential Unit Citations for outstanding tactical air support and aerial combat. Unaware the airmen were African American, the Allies called them the "Redtails" and requested them for escort cover whenever possible. The 332nd Fighter Wing received 744 Air Medals, 150 Distinguished Flying Crosses, 14 Bronze Stars and the Presidential Unit Citation for its longevity. More than 450 Tuskegee Airmen trained during WWII were deployed overseas.
Their outstanding record helped influence the enactment of President Harry S. Truman's Executive Order 9981, which led to the desegregation of the military. Truman's executive order and the Tuskegee Airmen's efforts helped pave the way toward later racial integration in the United States.
"Their experience in the war was truly unique because they had to deal with discrimination abroad and at home, even after the war" said Gloria Burns, president of Metro's Black Students' Alliance, adding that even today many students are unaware of the Tuskegee Airmen.