Lincoln Hills: An African-American Monument In Colorado's Mountains
By Andrea Juarez
John Scott makes an hour-long drive to Lincoln Hills almost every week. When the 83-year-old arrives, he sits outside, smells the pine and listens to the peaceful surroundings that are only occasionally interrupted by passing trains.
Scott never tires of visiting Lincoln Hills, a once renowned vacation development started in the 1920s for African Americans during segregation. Located between Pinecliff and Rollinsville, Lincoln Hills was for years the only African-American resort area west of the Mississippi River. Other Black resorts included Oak Bluffs in Martha's Vineyard, Mass.; Idlewild in Michigan; and American Beach in Florida.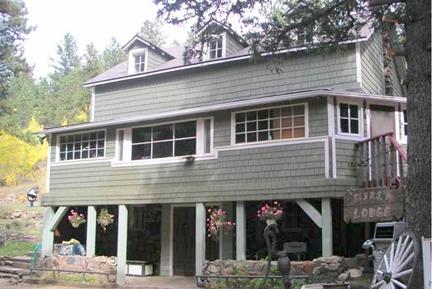 Photo courtesy of the James P. Beckwourth Mountain Club
From 1928 to 1965, Winks Lodge was the epicenter of Lincoln Hills. The structure is a monument and testament to the ingenuity and entrepreneurial ambition of African Americans in a period of oppression.
"When people came up to Lincoln Hills for excursions, the final stop was at Winks Lodge," said Scott. "When Winks opened, it was the main attraction."
The James P. Beckwourth Mountain Club, a Denver-based nonprofit, purchased Winks in April 2006 and has been working to restore the property to its original grandeur. Named after the legendary James P. Beckwourth, an African-American explorer and frontiersman, the nonprofit takes people of color into the mountains and provides educational programming on the historical contributions made by Blacks and other people of color in the West.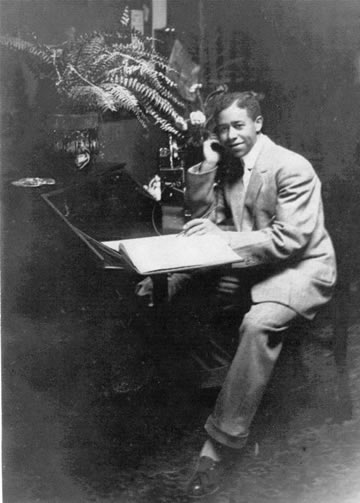 Obrey Wendell "Winks" Hamlet, age 17
"Winks Lodge is a jewel in our African-American heritage. It is a tremendous honor for us to have it," said Cheryl Armstrong, JPBMC president and CEO. "We are excited to be the steward of such a historic, cultural legacy. We are proud of all those who created Lincoln Hills and look forward to educating people from Colorado and across the country about its significance in African-American history and the history of the West."
Denver entrepreneur Obrey Wendell Hamlet, who was also known as "Winks," saw opportunity and built a full-service resort in the budding area. He and first wife Naomi Hamlet began construction of a three-story, six-bedroom lodge in 1925 and finished it by 1928.
The lodge was named "Winks Panorama," though it was also commonly known as "Winks Lodge," and was visited during the summer and early fall. The Hamlets (after Naomi's death, Obrey's second wife Melba), owned and operated the lodge, providing room and board to guests for 37 years until Obrey Hamlet's death in 1965.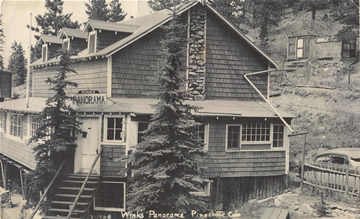 The structure was built into the hill, and its base and north walls were built of native rubble granite and authentic river rock. While the first floor was primarily used for storage, the second floor and main entry had an extensive wraparound porch built of hand-hewn pine beams and posts, where breakfast, lunch and dinner were served to thousands of guests and diners over the years. The lodge's six bedrooms and single bath were located on the upper floor.
In addition to the lodge, Winks also built several other properties, including the orange cabin, where he lived while building the lodge; a honeymoon cabin; the tin house; a three-plex cabin; and the tavern, which offered live entertainment and a jukebox.
A Retreat During Segregation
The Lincoln Hills Country Club was the brainchild of African-American entrepreneurs Robert E. Ewalt and E.C. Regnier, who in 1922 created the Denver-based Lincoln Hills Development Company. They sold mountain property to Blacks to build summer homes at a time when they were not otherwise allowed to obtain lodging or enjoy the amenities of public parks in Colorado.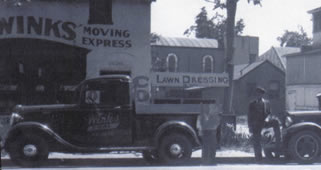 Winks Five Point Business, courtesy of the Denver Public Library
"Lincoln Hills was a place that middle-class Black people who had discretionary funds could go to for vacation," said attorney Gary M. Jackson, 61, chair of the JPBMC Winks Lodge Advisory Board and life-long visitor to Lincoln Hills. "From the point of view of my grandparents and own parents, this was a place of refuge, a shelter from harsh times. This was a place they could freely go and enjoy mountain life with family and friends."
It's estimated that the Lincoln Hills Country Club extended over 100 acres on both sides of the existing railroad.
"They sold over 600 lots in Lincoln Hills," said John Scott, Jackson's uncle. "The lots were small – only about 25 feet by 100 feet – and they sold between $50 to $100 depending on the location. Many bought sight unseen from New York, California, Omaha and Kansas City. My grandfather, William Pitts, bought two lots and built our family cabin."
Scott, who lives in Aurora, said Pitts was a carpenter who built three cabins in Lincoln Hills, two as rentals and the family cabin. The cabin was later named "Zephyr's View" by Scott, who was porter for 14 years on the California Zephyr, a passenger train from Chicago to California that passed in front of their cabin. Pitts, a developer in the Lincoln Hills Country Club, also helped build the Denver Country Club, an exclusive club for whites.
Lincoln Hills was also home to Camp Nizhoni, a summer camp for prominent African-American girls offered by the Phyllis Wheatley Branch of the YWCA.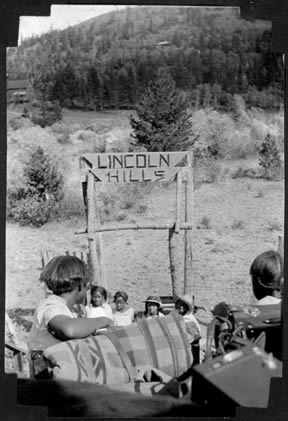 Courtesy of the Denver Public Library
Named after an Indian princess, Camp Nizhoni was the only camp for African-American girls in the mountains west of Mississippi. The Phyllis Wheatley Branch of the YWCA, which was established in 1916, started the camp in 1920. However, it did not have a permanent home until 1927, when it leased and eventually purchased lots in Lincoln Hills.
"Every summer 15 to 20 girls would come to camp. Girls from Denver, Colorado Springs and Pueblo and sometimes a few from out of state would come," said Marie Greenwood, former camp attendee and counselor.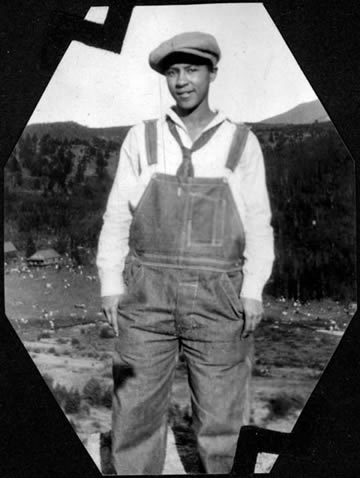 Marie Greenwood (then Anderson), age 15
Greenwood, the first Black schoolteacher in Denver Public Schools, now 94, spent nearly all her summers from the age of 14 to 30 years old (when she got married) with the camp. She became a junior counselor in her late teens and later worked as an adult counselor. She taught campers about trees, flowers, plants, birds and other animals and took them hiking.
"Sometimes we went on all-day hikes or went on overnight outings where we slept under the stars," she said. "We'd start out early in the morning and cook a breakfast out on the trail. We'd make a fire and I'd have the girls heat the rocks then they'd blow off the ashes. I showed them how to cook bacon on the rock and then fry up an egg with the leftover grease. The girls were so hungry sometimes they didn't care if there were ashes in their food."
When Greenwood was informed that "nizhoni" meant "beautiful" in Navajo, she said it was fitting. "It was a place where we could hike, play games, swim and learn about nature in an all-girl setting. I loved every minute of Camp Nizhoni. I lived and breathed being outside."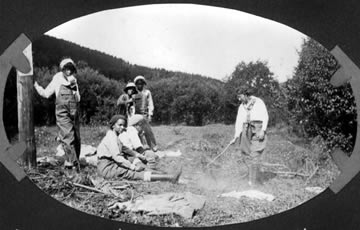 Camp Nizhoni girls cooking breakfast.
The camp operated until the mid 1940s, when the depression and lack of funds led the Phyllis Wheatley Branch to sell. The Denver YWCA reportedly integrated its facility in 1945.
The Place to Be
A lot of people came to Lincoln Hills via the Denver-Salt Lake train from Denver's Moffat station. Once there, visitors communed with nature – hiking, fishing, enjoying the mountain vistas and socializing.
Guests from across the country visited the lodge, including such luminaries as singers Billy Eckstein, Lena Horne, Duke Ellington, bandleader Count Basie, and writers Langston Hughes and Zora Neale Hurston. Many of those who stayed at the lodge also performed in Denver's Five Points.
Niccolo Werner Casewit, a historical researcher for the Winks Lodge Advisory Board noted, "Winks Lodge has been likened to the literary salons during the Harlem renaissance. Except this one is nestled in the mountains."
Lincoln Hills was a successful African-American resort during a period when the state's governor, mayor and other politicos were known Klu Klux Klan members. Casewit said Gilpin County welcomed the resort because it had freedom and economic independence. African Americans had been a fixture in Gilpin County since the gold rush in 1859.
Jess DuBois, Melba Hamlet's son, now 73 and a Denver artist, spent a lot of time painting portraits of people in Gilpin County and often helped out at the lodge.
"White people gave Winks respect when he dealt with them or went to take care of business in Central City," he said. "They made him a sheriff and gave him an extra badge, so my mother became his deputy. If the need arose they were responsible for taking care of business. Winks and my mother married in 1952. She was the cook and also handled the rooms. Winks was a quiet man, a great handyman and very thrifty."
DuBois remembered the old dishwasher Obrey salvaged from the dump and converted to a barbeque, "People said their barbeque was as good as or better than Gates Bar-B-Q out of Kansas City," he said.
Winks' great-niece, Janis Sinceno, now 62 and from Atlanta, also has vivid memories of the place. She frequently stayed at the lodge as a child on the weekends and during vacations.
"I'd usually take the train up and stay for a few weeks or longer," she said. "There were crowds of people who visited so there was a lot of work to be done. When I was done with my chores I got to have fun. It was a good life. There was freedom there."
During the winter months, when things slowed down at the lodge, Melba went to Boulder to cook for fraternities and sororities while Winks stayed to work around the lodge and often went down into Denver.
Despite the freedom and historical uniqueness of this mountain retreat, interest waned. "When Winks died, interest in Lincoln Hills died," said Scott. "Only a few Blacks kept their cabins."
Prior to Obrey Hamlet's death, the depression forced owners to sell or abandon their properties. Further aggravating the decline was the passage of the Civil Rights Act of 1964 that ended legalized segregation in housing, enabling African Americans to vacation elsewhere.
"Lincoln Hills was old school to the younger generation who went to new areas like Vail and Dumont," said Scott.
After Obrey's death, Melba continued to operate the lodge on her own, but it proved to be too much and she eventually sold all the Lincoln Hills properties. According to property records, she sold the lodge in 1971 for $8,000 to Eileen and Guy Dart. A Black couple from Omaha, Bertha Calloway (a Camp Nizhoni alum) and her husband James bought it in 1978 for $30,000. Calloway, a historian, got the lodge added to the National Register of Historic Places in 1980.
In 1985 the property was sold again to Rob and Martha Tomerlin, a white couple from Texas, who wanted to have a camp for wayward youth. In April 2006, JPBMC purchased the property with an acquisition grant of $247,000 from the Colorado State Historical Fund.
A Hopeful Future
The lodge is presently undergoing a historic structure assessment to determine what needs to be done to make it accessible to the public. Meanwhile, the Winks Lodge Advisory Board is documenting the history of the lodge and Lincoln Hills. The board is planning special events in Denver and at the lodge, and is actively fundraising for the renovations that will take place over the next year. Once the facility has been fully restored, it will be open to the public as a museum for educational tours and also for rental.
Joceyln Brown, an African-American woman in her 40s, moved to Lincoln Hills with her twin sons nine years ago. She lives there year-round and estimated only eight to 10 properties in Lincoln Hills are Black-owned. She's enthusiastic about JPBMC's acquisition of Winks Lodge, and hopes that it will inspire more Blacks to buy property there.
"I'm really excited about what's coming down the road. I'm glad Beckwourth owns Winks Lodge and is working to rebuild the area," she said. "As an established organization, they will have support from the historical society and the county to preserve its place in history."