The Denver Black Arts Festival (DBAF) will celebrate its 20th anniversary at its original home – Denver's City Park West. Scheduled for July 12 to16, the festival will alternate between the Downtown Denver Pavilions and the historic Five Points district the first three days, culminating at City Park West for the final two days (Saturday and Sunday). The theme for the festival is "A Score for Change."

For Perry Ayers, DBAF co-founder and executive director, the event's long history speaks to the community's desire to learn more about African and African American culture.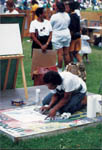 "The Denver Black Arts Festival experience represents the passionate drive of a community to congregate again and again to keep this rich culture alive," he said. "This festival is a dynamic preserver of a culture that has so much to offer everyone—young or old, rich or poor."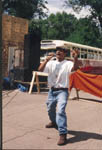 The community can expect to see multi-faceted performing and visual arts through the following events and stages: The Boogaloo Celebration Parade, Cafe Nuba Hip/Hop Stage, the Children's Pavilion, F. Cosmo Harris Gospel Stage, the Joda Village, KUVO Kuumba Stage and the Urban Spectrum Visual Arts Pavilion. The festival entertainment lineup includes: Sheryl Renee, Latitude Experience, MIA, Dae Dae, Chasing the Dream, the Heritage African Dancers and Drummers, the Heavy Hitters Percussion Squad and Baba Joda & Friends.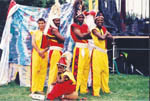 Festival goers wanting to leave their own personal mark at the festival will want to make their way to the Children's Pavilion. It will feature a "Wall of Wisdom" where anyone can write words for future generations to read and also view a photo exhibition by youth entitled "Shoulders," where they have captured images of legends and elders in their community. Gospel vocalist and musician Johnnie Mae Stewart, will be honored at this year's festival with the "Louise Duncan Lifetime Achievement Award for Excellence in the Arts." The award is named after legendary Denver jazz pianist Duncan, who received the first lifetime achievement award in 1987.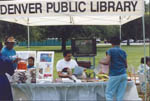 To further celebrate this milestone year, there will be a 20th a nniversary special exhibit by local cultural institutions, including the Black American West Museum and Heritage Center and the Stiles African American Heritage Center. The DBAF's 20th Anniversary commemorative poster has been designed by Moyo Ogundipe, the featured visual artist for the festival.


The DBAF Marketplace will include vendors selling unique Afri centric items as well as socio-civic organizations addressing health issues, education and employment. The DBAF food court will offer Southern cuisine as well as traditional African and Caribbean dishes.

The Denver Black Arts Festival stands as a premier national arts festival celebrating the spirit of African American arts, culture and traditions through the various disciplines of music, dance, theater and visual arts. For more information, call Perry Ayers at 303-860-0040 or visit www.denbaf.org.

Schedule of Special Events
Denver Black Arts Festival 20th Anniversary
All events are free except as noted.

Image of Legends, Wednesday, July 12 from 6 to p.m.; Denver Pavilions.Denver Urban Spectrum presents Images of Legends an African American Visual Arts Exhibition featuring the works of Denver's leading African American visual artists.
"I Ain't Lyin" Comedy Showcase, Wednesday, July 12 at 9 p.m. at Jazz@Jacks at Denver Pavilions 16th & Glenarm; $10 admission.
Jazz@Jacks and Smooth Jazz 104.3 presents comedy
with some of Denver's funniest African American comedians, including Louis Johnson, AD and Akwame.
Five Points Community Mural and Gallery Tour, Thursday, July 13 from 4 to 7 p.m.
The tour starts at 29th and Downing (across from the LightRail Station) and goes throughout the Five Points, Curtis Park and Cole neighborhoods. Along the route will be hands on art projects, festival souvenirs and refreshments.

Drum and Drill Exhibition, Friday, July 14 from 11 a.m. to 3 p.m., Denver Pavilions at 16th & Glenarm.
S 107.5 presents the 4th Annual Drum and Drill Exhibition – "Rockin' in the Mile High City" featuring breathtaking performances by 10 drum & drill teams from Colorado and the Midwest Region.

Denver Black Arts Festival, Saturday, July 15 from 10 a.m. to 8:30 p.m.
DBAF returns to Denver City Park West Opening c eremony is from 10 a.m. to noon at Denver City Park West Meadows (Between 21st & 22nd on York St.).

Boogaloo Celebration Parade, Saturday, July 15 from 5 to 7 p.m. Denver City Park West.
The Boogaloo Celebration Parade "A Pompous Show" will begin at E. 22nd Ave and Washington St. and go along 22nd Ave. to York St. From 22nd Ave., the parade will follow York Street to 21st where it will enter City Park West. This year's Grand Marshall is Denver Councilwoman Elbra Wedgeworth (District 8.)

Denver Black Arts Festival, Sunday, July 16, from 10 a.m. to 8 p.m. Denver City Park West.
The DBAF's 20th Anniversary celebration is made possible by the following supporters: KS107.5, the City & County of Denver, Deep Rock, the Denver Foundation, the Denver Newspaper Agency, the Denver Weekly News, the Gay & Lesbian Fund, KUVO 89.3, McDonald's Corporation, 9News, Pepsi, Smooth Jazz 104.3, the Denver Urban Spectrum and Wells Fargo.
Also Read:
DBAF Founder Reflects On Past And Talks About The Future