Motorcycle Clubs Ride The Summer Highways
By Jan McNutt
The Swords of Justice, the Sons of Darkness; the Rocky Mountain Riders, Hells Lovers, Buffalo Soldiers, the Warriors, Big Wheels, and Syrian Temple No. 49 are once again zooming through the Colorado Rockies this summer.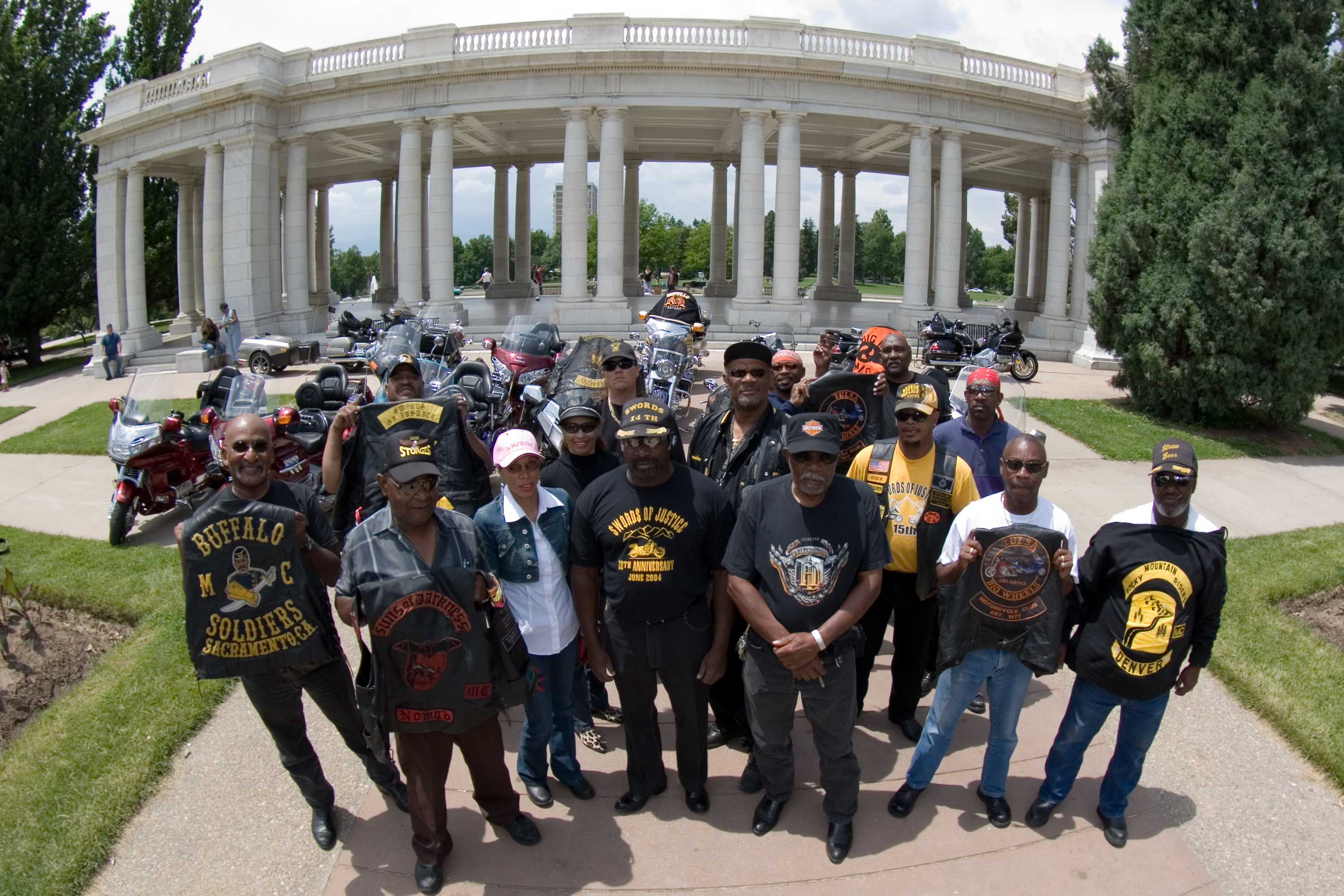 There's no need for the public to run inside in fear. These names don't belong to cults or other insidious groups. They all identify popular motorcycle clubs, found enjoying the sunny weather and stunning scenery along our state's byways.
While the mention of biker clubs, especially the infamous Hells Angels, can strike fear into some people, but most of them are just close-knit communities of avid bikers.
For these motorcycle die-hards, summer in the Rockies means cool evenings, hot sunny days, a long stretch of pavement on the horizon, a full tank of gas, and heading off into the sunset with your buddies, all while seeking brotherhood and fun in the wide open spaces called America.
Not surprising with the price of gas rising, so too are motorcycle sales. Ironically, dealers comment that the top priority for most people in buying a motorcycle is fun. Fuel economy is much further down the list of reasons for investing in a two-wheeler. The freedom of a motorcycle is what draws buyers to the tune of over one million annually, and rising steadily since 2002.
Real motorcycle enthusiasts feel pretty much the same across the board. There is never a bad day for a ride. That's why clubs have become so popular. There's always some one to ride with.
To be included in this brotherhood of bikes, first and foremost, you must have a bike made for long distance travel. If you rent one, don't tell a soul until you have to. It doesn't matter what kind of bike you ride you simply have to be riding one.
Second, you do not automatically become a member of any motorcycle club. Depending on your likes and taste for adventure, there is a club for almost everyone.
Women Can Ride, But Can't Join The Club
Peggy Wortham is the assistant to Colorado Black Chamber of Commerce Executive President Wellington Webb. She is also known by some of her friends as "Lady P." A devoted motorcycle enthusiast for nearly 10 years, Lady P is her biker "handle."
Wortham discovered motorcycles quite by accident when Denver hosted the National Bike Roundup in 1996. The press assistant to former Mayor Wellington Webb at the time, she insisted he visit the motorcycle event. After all, it was his duty to welcome this huge gathering of bikers that was bringing in millions of dollars of revenue to the Denver economy.
The mayor agreed and greeted the bikers, but Wortham fell in love with bikes and has been traveling on two wheels ever since. That seems to be most biker's story – "After my first experience on a motorcycle, I have been on one ever since."
While Wortham is passionate about her biking, as a woman, she is a small minority in the world of motorcycles. Ninety percent of bikers are men.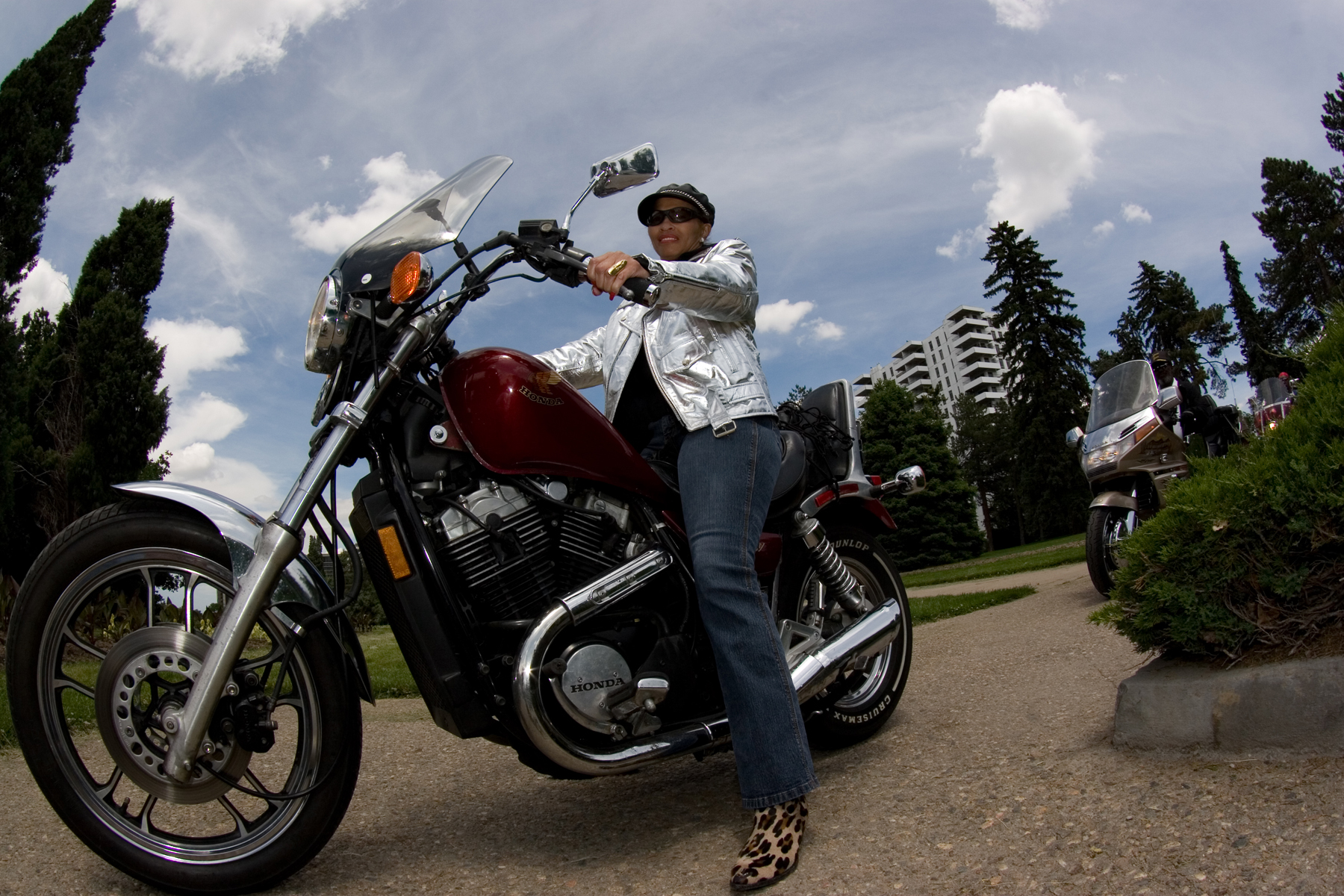 Tomeka is a fashinista biker chick
Motorcycle club members claim to make no distinction between race, color, economics, Harley or Honda, or this club or that club. By all accounts, it's the brotherhood of man: men on bikes, men out front, and men heading onto the highway of adventure. It's all about men creating identity around an engine sitting atop two white walled wheels. Clubs are open to African Americans, Latinos, Caucasians, and any other humanoid you can name. Yet, there are no women in their clubs. Without apology, club members report that this is a boy's thing through and through.
According to Allstate Insurance Company, women represent 10 percent of the cycle-riding population, a growth from years past. Indeed, women acquiring motorcycle licenses have jumped 28 percent.
Women bikers don't seem to think this ostracism is unusual, discriminatory, or for that matter, all that bad. Apparently what free-riding women have is the advantage of a gang of big brothers who look after them on the road. The women riders are included in weekend rides. They are invited to parties and events with certain motorcycle clubs. But, they simply shrug with a 'who knows why it's this way?' comment and rev up their motors. Like the men, give them a long highway and free time and they are happy as a horse without a fence. 'There are not enough days or roads to worry about sex or racial discrimination' seems to be the prevailing attitude.
Instead of a club, women bikers tend to have riding partners. Wortham's partner is from California.
Alex, a 46-year-old who works in the accounting department of Agilent Technologies, rides with Tomeka, an airline hostess. The riding buddies just returned from Alex's first 100-mile ride, which served to whet their appetites, and they are ready to roll on down the highway again.
Alex is a newbie, who'd been riding for just four weeks at the time of her interview. Her bike is a $200 investment that is now her baby – a 1981 Honda CB 750 Custom, completely rebuilt with the help of a local club member. Tomeka has been a biker chick for eight years.
Athena, known by her handle "Sixty," and Shante, or "Soul Child," are fast friends who share a lifelong love of motorcycles. These two young chicks, 28 and 29 respectively, practically grew up on the back of bikes. Sixty's father, Maxie, was president of the Sons of Darkness for many years. To hear the women tell it, "to finally have their own bike to ride is what living is all about."
Older, Well-Educated Men Fill Biker Clubs
The real advantage to being in a club is joining the organized rides. Clubs plan any where from three to five long rides a year. They often have a short ride in the middle of December. The bike rallies are a draw and many bikers plan their vacations around a cross-country ride to a national rally.
In Colorado, some of the popular clubs include Syrian Temple No. 49, Swords of Justice, Sons of Darkness, and Rocky Mountain Riders.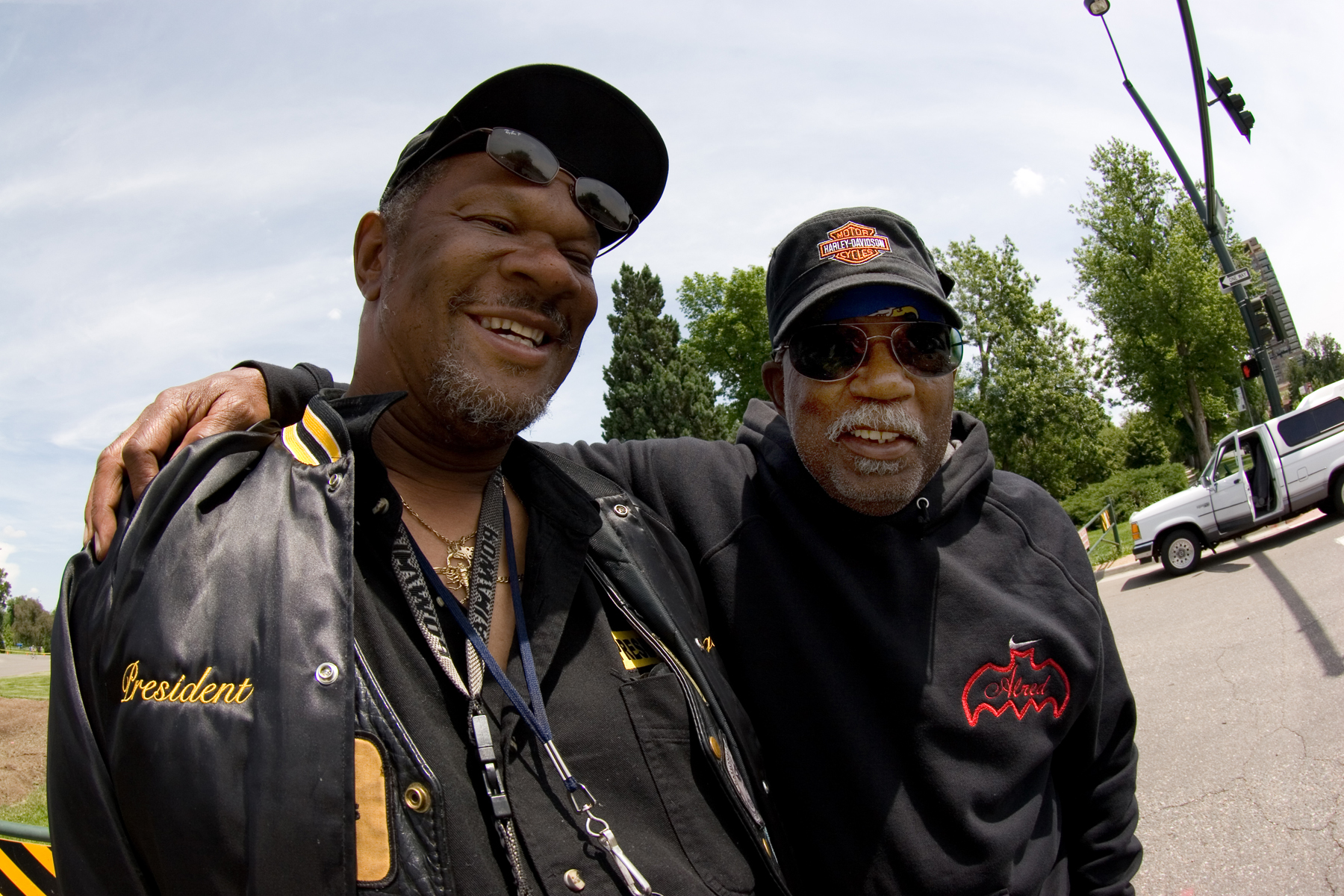 Fingers and Straw Boss
Members of the Syrian Temple No. 49 wear dark, creased, well-fitted uniforms. The club, the motor patrol unit of the Shriners, has strict rules. To belong, they must also be Masons, members of a historic fraternal organization. They have to purchase the customized Harley-Davidson Ultra Classic or the Honda 250.
The Syrian Temple also works as a performing group, traveling the country entertaining and competing with specialized and sometimes dangerous maneuvers. Developing these talents requires weekly practices to refine quick, even turns, straight lines, and riding a figure eight configuration with grace. The Denver club is ranked number two in the United States, and is headed back to compete again at the National Shriners Convention in Charlotte, N.C., this August.
Lionell Cummings, president of the motor patrol unit, has been riding motorcycles since he was 16. Also known by his handle, Shadow, he said joining the unit is a way for him and others to share their passion for bikes with the community.
"I rode before so when I became a Shriner it was obvious that I should do this," Shadow said.
Other clubs like the Swords of Justice and Sons of Darkness are a bit more relaxed. Their riding uniform consists of jeans, T-shirts, and leather jackets with their colors in club emblems on their backs. Their rides include all shapes and sizes from Harleys to Hondas, Shadows, Goldwings, and Kawasakis.
The motorcycle rider population has come a long way since their original image as roughnecks and hooligans. The stereotypical biker today is well-educated and older with a professional or technical career. Riding a motorcycle captures the fantasy of freedom and adventure. It's all about driving a powerful machine under your complete control, and being in touch with the elements of nature. Yes, it can be considered dangerous, but all seem to agree that one requirement should be observed and obeyed: taking a class in how to ride a motorcycle.
Ken Coleman, a Buffalo Soldiers club member from Sacramento, Calif., represents how the national biker fraternity mindset works. He's a seasoned biker whose handle is "Highway," because he is on the highway about half the year. A retired warden, he hung up the cell block keys and hit the road on his Goldwing five years ago. Since then he has logged 155,000 highway miles.
The Goldwing has been called the Cadillac of bikes. The seat is soft, comfy, and cradles your upper body. Equipped with a high-quality sound system and a travel trailer, it provides all Highway needs to travel the country in open-air comfort.
When he was heading through Denver on his way to Virginia recently, he knew that getting hooked up with a local club or acquaintance from a rally was just a phone call away. Although Denver has no Buffalo Soldier clubs, his status as a club member somewhere else gave him instant brotherhood with local bikers. He was invited and welcomed with open arms to a Swords of Justice BBQ and spent the next day on a ride with them as well.
"If you're a motorcycle rider, it's like you belong to a brotherhood. It's a friendship based on something you have in common – you ride," said Shadow of Syrian Temple No. 49.
For anyone interested in the motorcycle lifestyle, the best way to learn more is to find a club member and ask them about their clubhouse, local events, and rides. Though not every man on a motorcycle is in a club, that biker at the stoplight or in the restaurant parking lot might be the easiest link to finding a club.
As Alvin Jones, aka Fingers, from the Swords said, "When you see us on the road, stop us and ask where we're going. Ask if you can join us for the ride."
Editor's Note: For information on motorcycle clubs, contact the Colorado Confederation of Clubs through the president, "Diablo" of the Valients Motorcycle Club, at 720-318-4167, or go online to www.colorado-coc.com.
The 30th annual Bikers Roundup will be in Kansas City, Mo., Aug. 1 to 4. For information, call roundup headquarters at 816-483-0304, or go online to www.nbrkcmo.com.
Also, bikers should take note of Denver's new law restricting motorcycle noise, which went into effect July 1. The new requirement is for bike owners to get a stamp for their exhaust pipes to show they are in compliance with the U.S. Environmental Protection Agency noise standards. First-time offenders with a noise level above 80 decibels will get a ticket for $500, and the second time will net a fine of $1,000.