By LisaMarie Martinez

The Bible scripture, Luke 12:48, which states: "And unto whomsoever much is given, of him much shall be required," resonates in the nonprofit Full Circle Inter-Generational Project, through the heart of its founder and executive director, Anita West-Ware. Being spiritually grounded and recognizing she was given a gift, a vision and a responsibility to give back to the community, West-Ware has strived to keep her organization focused on the overall health in the community. She is constantly designing community-driven programs to address the care of the mind, body and spirit.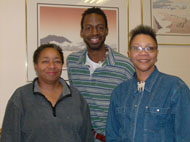 Upon opening its doors in 1991, Full Circle was a statewide, multicultural, pilot project that applied the Social Bonding Theory and used an inter-generational approach. It brought together older adults, family members and community mentors to work with youth to address alcohol, drug and tobacco prevention. Since then, it has expanded its services by providing a wide gamut of free programs, partially supported by voluntary donations from participants. family night, car seat safety and fitting workshops, breast cancer prevention services, senior exercise, Sistah Girls forums, nutrition classes, Sistah Girls exercise and Gospel Aerobics.
In 1996, women involved with the Full Circle programs created Sistah Girls, a multicultural forum designed to discuss topics related to finances, health, romance, menopause, domestic violence, unemployment and incarceration, among others. The forum later became more focused on healthy bodies and was renamed Sistah Girls Exercise, with Bonnie Randle as the current fitness instructor.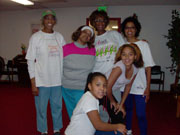 "We begin with opening prayer, then I inform them of community and Full Circle Activities. We do stretching, weights, have a warm-up/cool-down, low impact workout, which includes floor/wall work, modified burst training, and it's all done to Gospel music," said Randle.
Doris McGregor, one participant, found the exercise class to be motivating and effective, saying, "I've lost weight. It keeps me active, energetic and motivated. Bonnie encourages us to do exercises at home until our next class."
West-Ware developed another exercise class with low to high impact aerobics classes, Pilates, resistance, core and balance training, by bringing on Rudy McClinon Jr., a certified fitness instructor and personal trainer.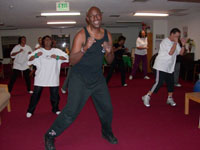 McClinon, owner of R-U-A Pro Fitness, named the class Gospel Aerobics, a name which "means a lot to me personally because of the things I've gone through in my life. I could not have gone through bilateral hip replacements and other setbacks without the help of Jesus Christ," he said.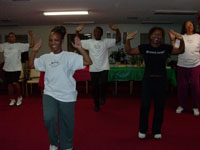 Although the focus of Full Circle is the African-American and Latino communities from Five Points, Curtis Park, Northeast Denver, Montbello and Green Valley Ranch, no one is turned away from the free exercise programs. Participants in Gospel Aerobics are of diverse religious backgrounds, ethnicities and beliefs.
"The cross-culture of participants is a perfect example of why fitness is important for all human beings, because despite their language barrier, they all have the same goal in mind and that is to improve their health and learn how to take better care of themselves as they age," said McClinon.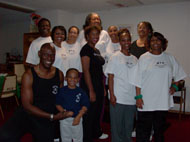 Encouraging safe and fun workouts, promoting a healthier lifestyle and genuinely caring for his participants, McClinon has successfully retained a consistent group of individuals to train. Every participant offered praise of their Gospel Aerobics instructor.
"Rudy ensures that you don't over-exert yourself since he has experienced pain," said Michelle Epperson.
Dwayne Carrington said, "He encourages having fun."
"Rudy takes the time to care about us," added Dorothy Anne King-Stockton, while Roslyn Washington said, "I've been coming for eight months so I can have a healthier lifestyle and because the Gospel music is motivating."
West-Ware views both the Sistah Girls Exerciseand Gospel Aerobics classes as being effective in fulfilling the Full Circle mission of promoting healthy lifestyles because to her "the music is grounding and the lyrics distract you from the workout itself." Both classes offer the community the opportunity to burn calories spiritually, four days a week.