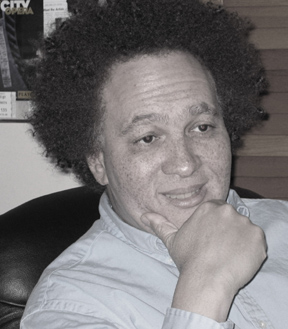 Excellent ....................****
Very Good ....................***
Good ..............................**
Fair .................................*
Poor ..................... No Stars
Scroll down or click on the movie title to see its review:
The Astronaut Farmer || Beyond The Gates || Black Snake Moan
Samuel L. Jackson Interview || Diary of a Tired Black Man
My Brother || I Think I Love My Wife || Pride
Amateur Photographer || Maxed Out || Reno 911!: Miami
The Astronaut Farmer
** 1/2
Would-Be Astronaut Builds Rocket In Backyard Barn In Heartwarming Modern Fable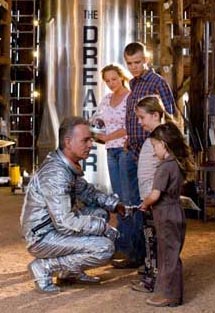 For as long as he can remember, Charles Farmer (Billy Bob Thornton) has wanted to rocket into outer space, so all his life he worked hard towards that goal, earning a degree in aerospace engineering and enlisting in the Air Force to become a pilot. He had even been admitted to NASA's astronaut training program, when a family emergency forced him to withdraw, seemingly forever dashing his hopes for experiencing spaceflight.
But not one to give up so easily, Charles, back as a private citizen, chose to devote the next 10 years of his life to building a rocket right in his backyard. The primary problem with this dogged pursuit of his fading dream was that he had a wife (Virginia Madsen) and three kids to support: Shepard (Max Thieriot), Sunshine (Logan Polish) and Stanley (Jasper Polish). But they and Grandpa Hal (Bruce Dern) lent their unwavering support to the project, not knowing that it was threatening to bankrupt the family in the process – Charles had secretly borrowed $600,000 from a bank which is now threatening to foreclose on his 352-acre cattle ranch. In addition, the CIA , the FAA and other federal agencies have caught wind of his cockamamie plan and are now threatening to shoot his spaceship out of the sky, if he should dare to launch it over their objections. But this is America, dadgummit, and you don't think Charles is gonna let any bureaucrats or government agents stand in the way of his God-given, inalienable right to the pursuit of his happiness, do you?
No way, and his defiant struggle against all odds provides the emotional grounding for The Astronaut Farmer, a barely believable flight of fancy that's fun for the whole family, provided you're capable of suspending disbelief. In order to enjoy this heartwarming tale, one must accept cartoon astrophysics and the idea that the authorities can't figure out a way to prevent a loose cannon like Charles from following through with his threat to catapult himself into the air at a rate in excess of escape velocity.
Just be thankful this fable revolves around a role model for junior astronauts who has an intact moral compass and an indomitable spirit worth emulating. What a breath of fresh air in the wake of that NASA space shuttle commander recently arrested for attempted murder after driving 1000 miles, non-stop, in a soiled adult diaper. Pee-yew.
Rating: PG for peril, mild epithets and mature themes.
Running time: 104 minutes
Studio: Warner Brothers
Beyond The Gates
**
Genocide In Rwanda Revisited By Paternalistic Bio-Pic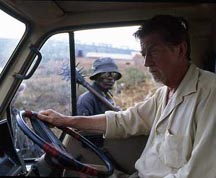 First, Hotel Rwanda chronicled the role that a hotel manager played back in 1994 by saving a thousand refugees from the senseless slaughter of a million of their fellow Tutsis unfolding outside the compound. Then Sometime in April covered the same civil war, only with a wider angle of the genocide.
Now, Beyond the Gates revisits the tragedy again, but from the perspective of a trio of well-intentioned Europeans: a Catholic priest (John Hurt), an idealistic English teacher (Hugh Dancy), and a BBC reporter (Nicola Walker). If you haven't seen either of the earlier offerings, this bio-pic based on actual events will serve as an excellent introduction to the blow-by-blow, pardon the expression.
However, those already familiar with the either of the previous pictures are likely to suffer from a slight sense of déjà vu while watching the ethnic cleansing all over again. Besides the hordes of Hutus in overkill mode, all there is to focus on, here, is the hand-wringing of the aforementioned whites who were apparently frustrated at every turn in their efforts to get the U.N. soldiers on hand to intervene.
Beyond the Gates struck this critic as slightly insensitive because of its subtle suggestion, at every turn, that the Caucasians were civilized and above the fray, while the indigenous peoples were out of control, bloodthirsty savages. Unfortunately, there's only one well-developed, fully fleshed-out African character, Marie, the beloved student the protagonists promise not to abandon, portrayed by Claire Hope-Ashitey (Children of Men).
A tad too pat in its paternalistic, post-colonial point of view for this critic's taste, Beyond the Gates is a relentlessly-grim reminder of how the world simply watched when it would have been so easy to put an end to the madness.
Rating: R for sexuality, partial nudity, and mature themes.
Running time: 111 minutes
Studio: IFC Films
Black Snake Moan
***
Bible-Thumping Bluesman Tames Wanton Woman In Tawdry Tale Of Sin And Redemption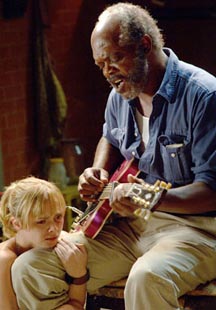 With Hustle & Flow, Craig Brewer showed the world how hard it was out there for a Southern pimp. Now, the irreverent iconoclast has returned to Memphis, Tennessee to craft an equally empathetic portrait of a nymphomaniac in Black Snake Moan, a tawdry tale of sin and redemption starring Samuel L. Jackson and Christina Ricci.
Jackson plays Lazarus, a weather-beaten, down-on-his-luck bluesman, whose wife, Rose (Adriane Lenox), has just done left him for another man, in this case his own brother, Deke (Leonard L. Thomas). In fact, Laz ended up so embittered and broken by the double betrayal that he has taken to lying around the house like a lost soul. So, the name from the famous Biblical parable really isn't needed to inform the audience that this is a character in search of a spiritual resurrection.
Laz finds inspiration for that transformation in a most unusual fashion, one otherwise uneventful Sunday morning, when tossing out the garbage at the end of his winding driveway. For lying there unconscious alongside the rural roadbed, and wearing nothing but panties and a midriff-baring blouse emblazoned with both the American and Confederate flags, is a bloodied and beaten young blonde, Rae (Christina Ricci).
Despite the fact that this is the South, where a Black man caught with a comatose, scantily-clad white woman on his property might have some serious explaining to do, Lazarus gathers her up in his arms and carries her into his house, rather than notify the authorities or rush her to the local hospital. Then, when she comes to and wants to leave, he ups the ante by chaining her to his radiator.
Wait, it's not what you're thinking. Lazarus isn't interested in rape, but in purging the wanton woman of undesirable demons. You see, Rae's got the blues, too, troubles born of having been molested by her mother's (Kim Richards) boyfriend when she was a child.
The abuse led to the unfortunate girl's affliction with what Laz decides must be full-blown nymphomania, after the seductive stranger impulsively offers him her body. Respectfully declining, he warns her that, "God seen fit to put you in my path, and I aim to cure you," whereupon she spits in his face.
The exchange sets up a classic standoff of good-versus-evil reminiscent of The Exorcist (1973). Can the Bible-thumping guitar player resist temptation, or will the shameless hussy have her way with him? This is the burning issue behind Black Snake Moan, a film which never quite decides whether it wants to be a modern morality play or merely an implausible excuse to allow Christina Ricci to writhe around in a state of undress for a couple of hours.
Yes, Ricci delivers a career performance here, her best since being a memorable second banana beside Charlize Theron in Monster (2003). But certain questions, nonetheless, begged to be addressed about the fundamental presumptions upon which the picture's premise rests. For instance, the notion that a woman inclined to mate indiscriminately is automatically mentally ill smacks of a sexist double standard, especially since so many movies, nowadays, routinely celebrate men who exhibit the same inclination.
And even if Laz has accurately diagnosed Rae's behavior as depraved, does anybody believe that it could possibly be cured simply by reading scriptures to her? Then there's the sadomasochism, such as the bondage in chains and the ice water bath to calm the savage beast. These punishments sound an awful lot like the sort of primitive torture doled out to witches way back in the 17th Century. What if those ordeals didn't do the trick? Should she be burned at the stake?
That being said, don't be surprised if the absence of credulity fails to diminish your ability to enjoy the movie. For Ricci is so convincing in her wanton carnality which has her sleeping around with every guy in town, from a hardened pimp/crack dealer Tehronne (David Banner) to an awkward, virgin delivery boy (Neimus K. Williams). And chain-smoking Samuel L. Jackson proves to be the perfect foil, fully committing to his portrayal of a terrifying troubadour who gets a new lease on life through the perverse desire to dish out that old-time religion, offset by some raw-edged, eight-bar blues.
The film also features a few other noteworthy performances, namely Justin Timberlake as Rae's soldier boyfriend on bivouac; S. Epatha Merkerson as the kind-hearted local pharmacist; and John Cothran, Jr. as the Right Reverend R.L. Like Hustle & Flow, Black Snake Moan somehow adds up to more than the sum of its parts, in spite of a preposterous plot, transparent sexploitation, preachy pontificating, and a pat fairytale ending.
Proof-positive that screen chemistry can trump trash, and that it's hard out here for a nympho, too.
Rating: R for profanity, nudity, graphic sexuality, violence, drug use, and ethnic slurs.
Running time: 118 minutes
Studio: Paramount Vantage
Sam Rises To The Occasion As Lazarus
The Black Snake Moan Interview With Kam Williams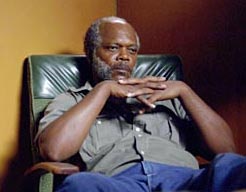 With over 100 acting credits already on his resume', Samuel Leroy Jackson remains one of the hardest working thespians in Hollywood . Nominated for an Oscar in 1996 for Pulp Fiction, the versatile actor has tackled every genre of film over the course of his illustrious career.
Not one to be pigeonholed, he's handled a variety of roles, ranging from a drug addict to a gangster to a mailman to a cop to a soldier to a musician to a hobo to a coach to an alcoholic to a minister to a villain to a teacher to an arms dealer to a hostage negotiator to a Jedi master to a hero who saves his fellow passengers from snakes on a plane.
Here, he reflects on his latest outing as Lazarus opposite Christina Ricci in Black Snake Moan. Set in Memphis , and written and directed by Craig Brewer (Hustle & Flow), the picture revolves around the efforts of a born-again bluesman to exorcise the demons of the nearly-naked nymphomaniac he finds lying beaten and abandoned along the roadway.
KW: In your last film you said, "I have had it with these bleeping snakes on this bleeping plane!" Did you encounter any snakes while making this movie?
SLJ: Well, it's the South, so there's snakes. I heard there were some around but, no, I didn't see 'em.
KW: How challenging was it to have to sing the blues for this role?
SLJ: Fortunately, Mississippi Delta Blues doesn't need a silky smooth, Luther Vandross-type voice. It's kinda more about making sure the emotion of what you're saying comes out than being a great singer.
KW: Were you already playing guitar before you took this role?
SLJ: I learned to play. It was one of the things that I spent the most time doing. I was lucky to have maybe six or seven months to work that out. I had a really good guitar teacher in the beginning, Felicia Collins, in New York , while I was shooting Freedomland. Then when I left to make Snakes on a Plane in Vancouver , the prop master was an awesome guitarist. He spent a lot of time with me in my trailer every day. It was something I did daily for months until I was comfortable doing it. And it actually became something I looked forward to doing, so by the time we got to the film, I was pretty facile. I'd actually taught myself to play the songs.
KW: Do you think the way that Lazarus chooses to take Rae (Ricci) home and restrain her instead of taking her to a hospital was realistic, given the South's history of overreacting to Black men being with white women?
SLJ: Interestingly enough, I understand the choice, just because I understand the rural South, because I spent a lot of time in it when I was a kid. My grandfather's brothers were farmers. I spent time on the farm as a kid with them, walking through the fields, working, and hanging out. But there are instances when you find yourself in a circumstance. If you put her in your truck and take her to a hospital, there are a lot more questions than if you just keep her at your house and try to nurse her back to health. Hopefully, she'll just walk away. That choice that he made of just keeping her there… I mean, he was sort of out of his mind in another kind of way at that point. He'd lost this woman that he had no control over. And now, all of a sudden he has a woman and she's kinda out of control in that interesting, sort of immoral way that he pictured his wife. So, he wants to control Rae, and to fix her. And the only way he can think to do that is to put this chain on her, and still give her some amount of freedom while pumping this Biblical medicine into her.
KW: What was it like shooting so many scenes with a scantily-clad co-star?
SLJ: I guess after about an hour of looking at Christina in those little panties and that shirt, you kinda get over it, because that was what she had on every day. And she didn't put on a robe or anything between shots and hide herself. She kinda just hung out. So, you get over it pretty quickly. The great thing was that during the rehearsal period, Christina and I developed this really interesting bond and trust which kinda allowed her to go anywhere she wanted to, and I would support her in that to the point where, I guess as an actor, or as Samuel L. Jackson, I became another sort of Lazarus figure.
KW: What did Craig [director Craig Brewer] tell you about your character?
SLJ: [Chuckles] Actually, Craig didn't tell me anything about the guy. Once I got the script and read it, they went through all the machinations of "That's not who you're supposed to send the script to," and it was like, "Okay, I'll go meet him," and whatever. Then Craig saw me on television talking about my life and decided, "Oh, he's got enough layers in his life to be able to play this guy." I'm an actor who shows up to rehearsal with a lotta stuff. I work out characters, and put together biographies and histories. So, by the time we got there and started rehearsing, it was very wise of him to just sit there and watch me and Christina kinda go through what we were going through and figuring out how our relationship worked as two people who had never encountered anyone like the other before. She'd never met anyone she couldn't manipulate sexually, and I'd never met anybody with a sexual dysfunction like that. How many people know when they've run into a real nymphomaniac or know exactly what it is or how to handle that? To him, she was just somebody who was possessed by a devil, or evil. And the only thing he knew to do was to exorcise it.
KW: So, what did you draw on in creating your character?
SLJ: To me, he seems to be an amalgam of my grandfather and his brothers, guys I worked with in the fields and talked to, people of the earth who drank hard when it was time to drink. And they loved the blues, and they sang, and told stories, and they did all this stuff. It was a nice way for me to pay homage to some men who developed me in a particular way which made me want to be a storyteller.
KW: How would you characterize Christina's performance?
SLJ: I think Christina's performance is one of the bravest performances I've seen by a younger actress. I'm sure there are a lot of young women who probably wouldn't touch this thing. I saw maybe three or four different audition tapes, but like I said, we talk about sexual dysfunction and nymphomania, but we never see what that process is. And it's interesting watching whatever that thing is, internally, that takes her over, and the way that she succumbs to it all the time. Rather than fight it, she lets it happen, not realizing that her power is in resisting it.
KW: Do you think some might see the movie as misogynistic?
SLJ: Titillating, yes. Misogynistic? I don't know. It's not often that you see a young actress in that state of undress for two-thirds of a film. It's kind of like early Helen Mirren in that regard. I used to like watching Helen Mirren's early films, because she was always naked. It's titillating.
KW: Finally, what did you think of Justin Timberlake's performance?
SLJ: It would have been easy for him to choose a role that allowed him to be more like himself. Young guys don't tend to want to portray people who have frailties or are less than macho. So, it was interesting for him to choose a character so opposite of what most women or guys would want their hero to be. And he wasn't afraid to do it. He stepped up and gave it his best shot, and it works for me in the film.
Diary Of A Tired Black Man
****
Brow-Beaten Brother Gets Even In Thought-Provoking Melodrama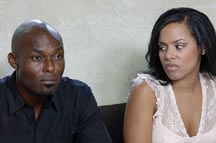 In recent years, numerous revenge-themed Hollywood adventures have seemed to take a certain delight in portraying Black men as unreliable womanizers undeserving of any respect, like the sort of losers always airing their dirty linen any day of the week on The Jerry Springer Show. From Waiting to Exhale to Two Can Play That Game to Diary of a Mad Black Woman, these female empowerment flicks have generally left brothers not only brow-beaten but in need of an image overhaul.
Now, help has arrived in Diary of a Tired Black Man, a fascinating half-documentary-half melodrama which marks the directorial debut of Tim Alexander. A little over a year ago, you may remember how Alexander generated a phenomenal air of anticipation about this controversial picture merely by making the trailer available over the internet.
That three-minute teaser captured the explosion of James (Jimmy Jean-Louis) who was frustrated about being dogged by his ex-wife, Tanya (Paula Lema), and her girlfriends because he showed up with a white woman to pick up his daughter during a custody exchange. Without reacting to their attack, he calmly pauses to address Tanya and her Amen chorus of supporters. Speaking in a measured tone of voice, he gets the last word, letting them know that he had been, and still is, an excellent though unappreciated provider.
The full-length feature opens with this same scene, but rather than proceed with the rest of the modern morality play immediately thereafter, the ingenious director came up with a brilliant cinematic device which only heightens the already palpable tension. He freezes the action after this point of departure (and again periodically throughout the picture) for revealing man-in-the-street interviews featuring fan reaction to the commercial, comments culled from footage he shot while crisscrossing the country with a hand-held camera.
So, essentially half of what we see onscreen is an intriguing documentary of everyday folks from all walks of life, both male and female, weighing in on the battle of the sexes. And these remarks, ranging from the profane to the profound and from the silly to the sobering, prove to be every bit as telling as the fictional front story.
For instance, a young woman quick to question whether there are any good Black men out there refers to the married guy she dated for two years as "typical "and an "effed-up, trifling-ass Negro." Yet, when asked why she even entered such an ill-fated, illicit liaison in the first place, her only answer is that she "fell in love," leaving the audience to conclude that she's just as much to blame for her lot in life as all the Black men she's just dissed.
To the director's credit, he does also include conversations with some sisters who don't absolutely go berserk when questioned about the behavior of brothers, like the one who forcefully makes the case that, "Not every Black woman walking the face of this Earth is angry. There are plenty of sweet, sugary, syrupy sisters that I know that brothers don't want."
Overall, the movie does come down rather hard on sisters, even though it doesn't let brothers off the hook entirely. Cleverly-edited to keep the audience on the edge of its seat, the movie flits back and forth between this sort of frank dialogue and the riveting tug-of-war between James and Tanya. With both the factual and fictional parts of the picture equally absorbing, expect to emerge from theater emotionally drained yet inspired to discuss the degree of dysfunction permeating African-American relationships among your friends and family.
Tim Alexander is quick to say that "Diary of a Tired Black Man is not a movie, it's a message." Well, I'd say it's both, and if his aim with this message movie is to kick start an overdue dialogue for change, I'd say congrats for more than meeting that challenge.
To see the trailer that caused the uproar, visit www.diaryofatiredblackman.com.
Rating: Unrated
Running time: 108 minutes
Studio: ScreenTime Films
My Brother
*** 1/2
Big Brother Cares For Mentally-Challenged Sibling In Moving Melodrama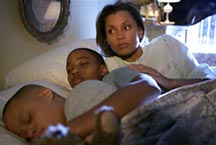 When L'Tisha Morton (Vanessa Williams) discovers that she's dying of tuberculosis, her first concern is for the welfare of her sons, ages 8 and 11. The single mom desperately wants them both to be adopted by the same family, because James (Christopher Scott), the younger one, is mentally-challenged. And when that doesn't happen, rather than allowing the two to be separated, she entrusts the elder, Isaiah (Nashawn Kearse), with raising his sibling who is afflicted with Down Syndrome.
Not surprisingly, simply trying to survive on their own in as unforgiving a city as New York proves to be quite a challenge, and that endeavor is the essence of what My Brother has to offer. Along the way, Isaiah is understandably distracted periodically, whether by the possibility of making easy money via street crime or by the womanly wiles of a seductive Sugar Mama (Tatum O'Neal) with Jungle Fever. So, the question is whether he will remain resolute in resisting temptation and opt to behave responsibly.
The picture was written and directed by Oscar-nominee Anthony Lover (for De Duva: The Dove), who must be credited for using his cinematic canvas to paint a quite touching tableau of brotherly love and devotion. What makes the movie even more remarkable is that it is the first film ever to feature an African American with a developmental disability in a lead role. In fact, we really have two such actors making their screen debuts, here, for both Donovan Jennings (James at age 8) and Christopher Scott (James as an adult) have Down Syndrome.
The historic aspect of the production aside, there are a couple of other reasons to recommend My Brother. First, seeing a ghetto-based drama revolving around Black males not behaving either like amoral gangstas or clownish buffoons is a welcome change of pace. Secondly, although the script runs a little long, it was well crafted and expertly executed by the capable cast, most notably Vanessa Williams, who exhibits an emotional range unseen in any of her previous work.
A moving and meaningful melodrama about a blood bond tested by the trials and tribulations of trying to survive in the inner city.
Rating: PG-13 for violence, profanity, and disturbing images.
Running time: 106 minutes
Studio: Codeblack Entertainment
I Think I Love My Wife
No Stars
Man's Marriage Vows Tested By Temptress In Remake Of French Morality Play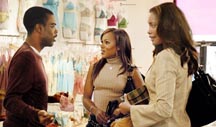 On the surface, it sure looks like Richard Cooper (Chris Rock) is living the American Dream. By day, he has a great job as an investment banker in midtown Manhattan where he enjoys a corner office with a breathtaking view. Evenings, he retreats to his spacious home in the suburbs where he is welcomed by his beautiful wife, Brenda (Gina Torres), and a couple of adorable, well-behaved young children.
So, what's wrong with this picture? Nothing, except that, despite all of the trappings of success, the pizzazz has gone out of the Coopers' marriage. The problem is that both of them have demanding careers and, between work and caring for the kids, they haven't made love in ages.
This asexual state of affairs seems to suit Brenda just fine, but it's been driving Richard up a wall. He finds himself with an ever-wandering eye, and fantasizing about every attractive woman who crosses his path.
Finally, an opportunity presents itself in Nikki Tru (Kerry Washington), an old acquaintance who has suddenly resurfaced after eight years. She used to date his buddy, Nelson (Orlando Jones), but they broke up ages ago. Now, Nikki says she'd like to be friends with Richard, and against his better judgment, he agrees.
Their daytime liaisons start off innocently enough, but lunch escalates to lust soon after she asks a very personal question, namely, whether or not he and his wife are still intimate. Richard's admission that they aren't only encourages Nikki to confess that she has designs on him.
Will the availability of an irresistible temptress lead Richard to break his marriage vows? This is the driving question behind I Think I Love My Wife, a romantic comedy very-loosely based on Chloe in the Afternoon (1972), Eric Rohmer's relatively-cerebral morality play exploring the meaning of infidelity.
This Americanized adaptation was directed by and stars Chris Rock, who also overhauled the script into a barely-recognizable, formulaic sitcom. And forget about the palpable tension created in the original by the protagonist's predicament. This transparent tale takes his cues from its spoiler of a title, so everybody knows from the beginning which of the ladies in this love triangle will ultimately be the loser.
Worse is the fact that the picture isn't funny. It essentially consists of a series of vaguely-familiar skits ostensibly lifted from a variety of other cinematic adventures. For instance, there's the bit where Viagra triggers a painful case of priapism, ala Scary Movie 4 (2006) and a host of other teensploits. Then, there's the ubiquitous drug store scene where a guy's plan to purchase condoms secretly is turned into a source of embarrassment by an insensitive clerk. This rip-off even has the nerve to recreate the seduction scenario from The Graduate (1967), complete with the famous silhouette of the raised leg featured in that classic's poster.
You are also likely to find the dialogue equally disappointing, unless you enjoy an endless indulgence in profanity and the N-word entertaining. In the process, Rock has squandered the services of a very talented cast, which included co-stars Kerry Washington and Gina Torres, veteran character actors Steve Buscemi and Edward Herrmann, and the decidedly unremarkable screen debut of the otherwise very colorful Stephen A. Smith of ESPN.
An uncreative, unoriginal exercise in the obvious. Richard may think he loves his wife, but I think I hated this movie.
Rating: R for sexuality, ethnic slurs, and pervasive profanity.
Running time: 90 minutes
Studio: Fox Searchlight
Pride
*
Philly Role Model's Inspirational Life Story Turned into Formulaic Hollywood Bio-Pic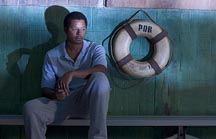 When Jim Ellis (Terrence Howard) arrived in Philadelphia in the summer of 1971, it was with high hopes of landing a teaching position. Instead, the only employment the recent college grad could find was a dead-end job closing down a rundown recreation center located in a disadvantaged area of North Philly known as Nicetown.
But after discovering that the gymnasium had a swimming pool, instead of preparing the dilapidated facility for the wrecking ball, Jim decided to try to renovate it. For, he knew that if he carried out his original assignment, the neighborhood kids would be losing their only local outlet for constructive, supervised exercise.
Furthermore, as a former competitive swimmer on the university level, Jim figured he had some worthwhile advice to share with the rudderless boys just hanging out on the sweltering, rimless basketball court. So, rather than allow them to get into trouble on the streets, he invited them inside for a chance to cool off in the pool. Then, he put them on a serious training regimen in order to turn them into a team capable of holding their own against the best swim clubs in the area.
In the end, Ellis not only succeeded in his efforts to resurrect the Marcus Foster Recreation Center, but the program he created has continued to flourish for the past 35 years, providing a healthy environment for aspiring young athletes in the inner city. This admirable achievement is the subject of Pride, a bio-pic based on the exploits of a real-life role model.
Unfortunately, the movie is flawed in a couple of glaring respects, the first, in terms of its infuriating use of the N-word. The slur is never employed by whites, not even by Ellis' squad's racist cross-town rivals, the Main Line Academy Barracudas. But it is repeatedly used by Blacks, a glaring anachronism ignoring that the embracing of the offensive term by African Americans is a relatively recent development.
Why would a movie both about and titled Pride feature characters demeaning themselves in such a fashion? Perhaps the answer lies in the fact that first-time director, Sunu Gonera, was born in Zimbabwe and lived in South Africa until he came to Hollywood to make this picture. So, he was probably simply unfamiliar with American history, and that once upon a time it was whites who primarily hurled the ugly epithet, not Blacks.
Another annoying aspect of the production is its indulgence in homophobic humor, referring to gays as "fruitcakes" and "Captain Panties" while generally intimating that it is not a safe thing to be a homosexual in the Black community. Again, this is uncalled for in a PG picture designed for impressionable tykes. What is it teaching them, "Aim high in life while reserving doling out disparaging remarks to gays and fellow Blacks?"
Otherwise, Pride unfolds in fairly formulaic fashion for a sports flick, with Terrence Howard turning in one of his typically captivating performances as the charismatic coach. An afroed Bernie Mac is almost as memorable as a marble-mouthed janitor/assistant coach/buddy/political lobbyist/matchmaker. And Kimberly Elise co-stars as hoop-earringed Sue Davis, another combination character who is conveniently a love interest, a city councilman, and a child advocate all rolled into one.
The rest of the principal cast of recognizable stereotypes is rounded out by Tom Arnold as Bink the bigot, Diana Ross' son, Evan (ATL), as Reggie the retard, Regine Nehy, as Wilhemina, the token girl, and Alphonso McCauley, who played bucktoothed Bucky in Fat Albert, as another awkward dork.
Well-intentioned, at best, Pride regrettably doesn't show enough brotherly love for anyone to be proud of it.
Rating: PG for mature themes, violence, profanity and ethnic slurs.
Running time: 104 minutes
Studio: Lions Gate Films
Amateur Photographer
****
Documentary Examines Mind Of Nazi Soldier Sent To Eastern Front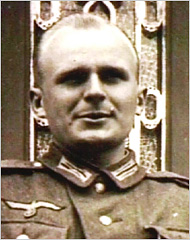 Would you like to know what it was like to be a Nazi participating in the invasion of the Soviet Union during World War II? If so, have I got a bio-pic for you. Amateur Photographer examines the exploits of Gerhard M., an officious foot soldier in Hitler's army who not only kept a detailed diary, but took plenty of snapshots as proof of his dirty work.
The bloodthirsty bastard was well rewarded for his efforts after the war, being executed by firing squad right after the Russians discovered his treasure trove of horrific images. Though the KGB had kept Gerhard's memoir and photo album in its archives for years, the recent release to the public of the long-suppressed evidence enabled director Irina Gedrovich to make Amateur Photographer, a damning tribute to a guy so filled with hate he was unaware that recording his own misdeeds would one day seal his fate.
For instance, the goose-stepping shutterbug takes before and after photos of an elderly Jew, callously recording the man's death in his copiously annotated notebook: "He dropped like a stone from a shot to the head." What a charmer.
Rating: Unrated
Running time: 28 minutes
Studio: First Run/Icarus Films
Maxed Out
****
Pitfalls Of Easy Credit Exposed In Documentary About Debt In America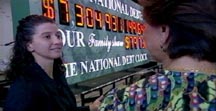 Why do you think more Americans will file for bankruptcy than for divorce this year? According to Maxed Out, the answer lies in the increasingly predatory lending practices of the country's credit card companies. For just a generation ago, it was much more difficult to obtain a line of credit from a bank. But between the deregulation of interest rates and a revised corporate philosophy, those who could least afford debt, suddenly found themselves deluged with credit card offers.
The result is no surprise: millions of borrowers who end-up burdened by a mountain of debt they have no way of ever eliminating. The best they can do is keep making partial payments while their bills escalate exponentially. And the credit card companies are quite comfortable with the arrangement because this modern equivalent of indentured servitude simply ensures that the rich will get richer and that the poor will stay poor.
Directed by James D. Scurlock (Parents of the Year), Maxed Out isn't a movie about frivolous, fiscally-irresponsible folks who have failed to manage their finances due to their own delinquency. No, this alarming expose' reveals a banking industry which specifically targets the naïve, the poor, the uneducated and other high-risk individuals, because the best customers are those who are broke.
How did we become a country where avaricious mega-corporations heartlessly feast on the misfortunes of the least of our brethren, aided and abetted in that endeavor by an anti-consumer Congress? This is the question which Maxed Out seeks to answer via a combination of probing interviews with experts, such as Harvard law professor Elizabeth Warren, and eye-opening investigative journalism conducted all across the nation.
In Mississippi , we are introduced to a mentally-retarded African American on fixed income who lost her home after being duped into signing a loan agreement whose repayment terms she would obviously never be able to meet. In Oklahoma , we learn of two college coeds who committed suicide because of runaway credit card debt incurred as undergrads.
Then there's the case of the Minnesota housewife whose credit rating was ruined when she was prematurely reported to be deceased. And how about the proof provided that a leading bank actually had a policy of disposing customers' payment checks in the trash so as to be able to charge late fees and interest?
A much-needed wake-up call to face the fact that unconscionable, state-sanctioned usury and exorbitant late fees leveled in the name of profit are destroying the prospects of the masses of working class citizens of ever achieving anything approaching the American Dream. This makes Maxed Out a must see for anyone who's addicted to plastic.
Rating: Unrated
Running time: 87 minutes
Studio: Truly Indie
Reno 911!: Miami
* 1/2
Keystone Cops Descend On Sunshine State In
Relentlessly Coarse Comedy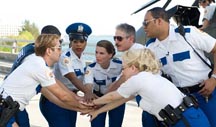 Led by Lieutenant Jim Dangle (Thomas Lennon), a detail of eight officers have been designated to represent the City of Reno at a national police convention in Miami Beach , Florida . This is no ordinary contingent of cops, but rather a motley crew of weirdos, starting with the light-in-his-gumshoes Dangle, who has highlights in his hair and always wears shorts in order "to be able to run like a cheetah."
Raineesha Williams (Niecy Nash) is a big-bunned Amazon in heat who has her eyes on Deputy S. Jones (Cedric Yarbrough), the only other African American in the squad. He has to deal with the sister's sassy attitude because he's more interested in a white colleague, Deputy Clementine Johnson (Wendy McLendon-Covey) an ex-showgirl with an hourglass figure.
Then there's Deputy Cherisha Kimball (Mary Birdsong) a lipstick lesbian who's not quite out of the closet, flaky Deputy Trudy Wiegel (Kerri Kenny) who's infatuated with her boss even though he might not be interested in girls, and Deputy Travis Junior (Ben Garant), a reckless redneck. Rounding out the team is Deputy James Garcia (Carlos Alazraqui), a misanthropic, second-generation Mexican-American.
When our odd octet arrives in Miami and attempts to register at the convention center, they are refused entry because the hotel has no record of their reservations. So, they have to settle for a cheap motel on the seedy side of town which just happens to be hosting a weekend for swingers called "Suckfest." After a night in which they generally over-imbibe and partake in some of the sordid debauchery, they saunter back over to the convention only to find it sealed shut due to a biological attack.
Since every other law enforcement officer around is now quarantined inside where they are certain to die unless an antidote is administered in less than 24 hours, it falls to the renegades from Reno to crack the case and track down the terrorists responsible while simultaneously maintaining order in the suddenly-defenseless city. This implausible premise provides the basis for the bizarre shenanigans found in Reno 911!: Miami, a big screen adaptation of the Comedy Central sitcom which is, itself, a spoof of the Fox's reality-TV show Cops.
This gross-out flick features only the rudiments of a plot, relying instead on the shock value provided by the punch lines, pratfalls and sight gags in a sloppily-edited series of disjointed skits which unfold at locales like a topless beach or the home of a hip-hop mogul. The movie is mostly a mix sexually-themed humor, with subjects ranging from masturbation to homosexuality to rape to mammary glands to private parts.
2007 must be the year of the overexposed ghetto booty in cinema, since this is already the third film of the year to mine considerable mirth at the expense of a flatulent sister with a ginormous, prosthetic, cellulite-ridden rump. Only fans of the TV show are likely to find most of these antics amusing, because the ensemble isn't fully fleshed-out, as if the audience is expected to arrive in the theater very familiar with the individual characters' personality traits.
The supporting cast includes Danny DeVito, The Rock and Paul "Pee Wee Herman" Reubens, but only in blink-and-you-missed-it cameos. Overall, Reno 911!: Miami is apt to work to the extent you can stomach a profusion of profane language, a parade of scantily-clad airheads, animal abuse, misogyny, and the N-word, in an utterly inane whodunit more in search of a cheap joke than the perpetrators of any crime.
A relentlessly crude and coarse sitcom with too much downtime between laughs to make it worth the wait.
Rating: R for nudity, profanity, graphic sexuality, ethnic slurs, drug use, crude humor, and slapstick violence.
Running time: 84 minutes
Studio: 20th Century Fox